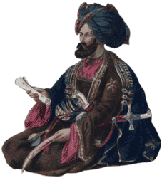 At present, the Research Institute for Languages and Cultures of Asia and Africa is running "The Research and Educational Project for Middle East and Islamic Studies" funded by the Ministry of Education's Special Account Budget for Educational and Research. Terrorism and wars in the Middle East and the Islamic regions make news on a daily basis, and all that we hear in these reports are the number of casualties. However, there is little mention about what these areas represent and the kinds of histories and cultures held by the people who live there. One major aim of our project is to provide this kind of fundamental information to as many people as possible.

 This exhibition, which is entitled "Splendid Afghanistan 1848: James Rattray's Lithographs of the Costumes and the Scenery," is an attempt to convey the traditional ways of life and customs about 170 years ago of Afghanistan, a country that still continues to experience war and in which Japan's involvement is currently the focal point. This exhibition presents 30 lithographs that are based on the sketches of James Rattray, Lieutenant in the British Army, of which this research institute possesses the only collection in Japan. The format of the original edition, which was published in 1848, comprised of a bound book accompanied by detailed commentary and was distributed only to persons who were registered such as military personnel, members of the royal family, and the nobility class. Thus, they are valuable works of art recognized worldwide and this is the first time that they have been exhibited in Japan. This exhibition also presents high-precision reproductions of the originals which, as a result of minute and careful digital restoration, are rendered beautifully so as not to lose any textures of the original edition.

 The creation of these lithographs is by no means unrelated to war. In 1838, the British troops that invaded Afghanistan in order to set up a puppet regime fought in battles throughout Afghanistan (First Anglo-Afghan War). British troops are currently stationed in southern Afghanistan and are still fighting in battles there, as they did 170 years ago.

 However, a major difference compared with the current situation is that Afghanistan was the subject of vigorous intellectual curiosity among the British. Rattray, who was a member of the British Indian Army, was also proficient in the languages of the local people, and was thus able to converse with the Afghan people directly. One reason why he left behind so many beautiful sketches is his strong interest in the ways of life and customs of Afghanistan.

 Naturally, his works and commentaries are colored by British Orientalism and bias of the time. Despite this, the splendid landscapes and portraits which he created in Afghanistan serve to show that rich cultural traditions exist in the shadow of wars that are conducted by major powers, both past and present.

 Through this exhibition, we hope to publish the results of the research carried out at The Research Institute for Languages and Cultures of Asia and Africa, for which we request your understanding and support. Your honest feedback on this exhibition would also be greatly appreciated.
The Research Institute for Languages and Cultures of Asia and Africa Director,
Kazuo Ohtsuka

              Exhibition Manager, Nobuaki Kondo

29 Octber 2007